We are taking you on a superb journey through the diverse climatic areas of Sri Lanka for 12 days and 11 nights. Ur journey together starts fresh after you are well rested at Colombo, and the rest is just fun, fun and fun. The trip includes scenic destinations, cultural landmarks, indigenous flora, fauna much more. You will also enjoy delicious and authentic native meals at the accommodations we have arranged for you. Visit the icons of Sri Lankan culture and history like the Temple of Tooth Relic, Anuradhapura, and Mihintale.
DAY 01 – AIRPORT | SIGIRIYA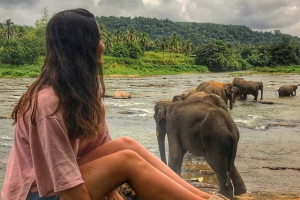 You can enjoy the eye-catching beauty of Sri Lankan nature on your way to your first night of accommodation at Sigiriya, where you will get to enjoy a part of Sri Lankan heritage that has been preserved throughout history.
Overnight accommodation at Sigiriya.
DAY 02 – ANURADHAPURA | MIHINTALE

Anuradhapura is one of those places that you must visit once you come to Sri Lanka. It represents the gist of Sri Lanka's rich culture and history with wonders of technologies ancient Sri Lankans had mastered. There are hundreds of stupas and ruins you will not even be able to visit in one day.
Mihintale also represents an important moment for Buddhists where Mihindu Thero first graced the Sri Lankans. After an exciting day, enjoy an authentic dinner in Sigiriya.
Overnight accommodation at Sigirya.
DAY 03 – POLONNARUWA | MEDIRIGIRIYA

Polonnaruwa is the second oldest kingdom of Sri Lanka and is known for its historical value. The ruins and many other culturally important landmarks like Buddhist temples and Hindu Kovils that represent the pride of Sri Lanka hold a sacred place in every Sri Lankan's heart.
You can also visit the famous archeological wonder Medirigiriya and end the day by enjoying a delicious meal at the hotel.
Overnight accommodation at Sigiriya.
DAY 04 – SIGIRIYA | MINNERIYA

Sigiriya has been a popular destination worldwide because of its uncanny design and architecture. Sigiriya is a massive column of rock that has been modified under the rule of King Kashyapa into a formidable fort and a castle.
Minneriya is another historically significant city in Sri Lanka mainly because of the great Minneriya lake built by King Mahasen. You will also have the sight of the Elephants the Sri Lankans are so proud of.
Overnight accommodation at Sigiriya.
DAY 05 | DAMBULLA | MATALE | KANDY

The cave temple complex is the major attraction of Dambulla. There are over 80 documented caves in this cave complex. The main 5 caves are decorated with statues and paintings. The largest Rose Quartz mountain range in the South Indian region, Na Uyana Aranya, the Iron wood forest, is the other destination in the area.
Aluvihare Rock Temple, Anagarika Dharmapala monument, Christ Church, and Fort MacDowall are some of the must-visit tourist attractions in Matale.
End your day with an uncanny view of Kandy city.
Overnight accommodations at Kandy.
DAY 06 – KANDY

Relax with the sweet weather and romantic scenery of Kandy, walk around Nuwara Lake, visit the temple of tooth relic and collect souvenirs from shops. Visit the Kandy viewpoint to get a 360-degree view of the city.
Overnight accommodation at Kandy.
DAY 07 – PINNAWALA | PERADENIYA

Experience the lifestyle of orphaned elephants at the Pinnawala Elephant Orphanage closely. The visitors can watch and participate in activities with Elephants. Some of the activities visitors mostly enjoy are feeding fruits to elephants and watching baby elephants getting fed milk.
Peradeniya botanical garden boats have rich biodiversity and scenic routes. It is a famous destination among both local and foreign tourists.
Overnight accommodation at Kandy
DAY 08 – TEA PLANTATION | NUWARA ELIYA

Sri Lanka is the birthplace of the world-renowned Ceylon tea. On your way to Nuwara Eliya, you will get to visit the well-maintained tea plantations and tea factories and enjoy a warm cup of Ceylon tea, which will warm your body and soul at once.
No tourist should leave Sri Lanka without visiting Nuwara Eliya. The city consists of so many things tourists can do, whether it be adventurous or romantic. Nuwara Eliya is a place visitors get to watch flora, fauna as well as endemic animal species.
Enjoy a hot dinner at the hotel.
Overnight accommodation at Nuwara Eliya.
DAY 09 – HORTON PLAINS

Horton Plains is known for its montane grassland and cloud forest, as well as its biodiversity, especially with the endemic animals of the region. The walk consists of several kilometers of footpaths, and you will come across several waterfalls, plains, and the 'World's End.'
Overnight accommodation at Ella.
DAY 10 – BANDARAWELA | BUDURUWAGALA

Start the day visiting the nine arch bridge, the Ella rock, Little Adam's peak, and other wondrous sites of Ella. Many visitors that visit Ella also take a small hike up to the green mountains to get a view of the beautiful waterfalls that reside in the area.
Bandarawela also possesses several beautiful and important tourist destinations like Porawagala, Rawana Water, Diyaluma waterfall, and Adisham bungalow. The time-warped colonial building Bandarawela Hotel is a great tourist attraction as well.
At Buduruwagala, there are rock-cut Buddha figures that are more than 1000 years old. One of them is taller than 15m, and this statue is believed to represent the Mahayana Buddhist figure. This archeological site is located in a remote area and is accessible through a scenic side road.
Overnight accommodation at Yala, Thissamaharamaya.
DAY 11 – YALA | GALLE | BEACH HOTEL

Yala National Park is the best destination to visit to see the Sri Lankan animal kingdom in full glory. Yala holds the record for the highest leopard density in the world. Visitors can get an adventurous safari experience deep into the Yala forest and watch leopards, elephants, aquatic birds, and other wild animals in their natural habitats.
Galle is a major city in Sri Lanka as well as a major tourist attraction. Galle has historical value to the Sri Lankan culture and is another place where you can collect many souvenirs. Especially the Portuguese architectural buildings, the Galle fort, and the sandy beaches catch the eye of anyone.
There are many beautiful luxury beach hotels at Galle where you will be able to spend a perfect night with the ocean breeze and view.
Overnight accommodation at Galle.
DAY 12 – COLOMBO CITY TOUR | Departure

On the last day, with the Colombo city tour, you will be able to visit the Dehiwala Zoological Garden, Viharamahadevi Park, Gangaramaya Temple, Colombo National Museum, Independence Square, etc. Each place is unique and beautiful in its own way, and most of them are must-visits for a Colombo city tour.
You can depart from the Katunayake International Airport with your heart filled with so many good, adventurous memories and new experiences.