Discover the best places to visit in Sri Lanka for couple.
Sri Lanka is the Pearl of the Indian Ocean. With its pristine beaches, ancient ruins, and lush green landscapes, Sri Lanka offers travelers a wide range of experiences. Due to this, Sri Lanka is a romantic and exotic destination that offers a unique experience for couples. If you are a couple searching for a perfect destination to create unforgettable memories together, look nowhere else. These are some of the best places to visit in Sri Lanka for couple.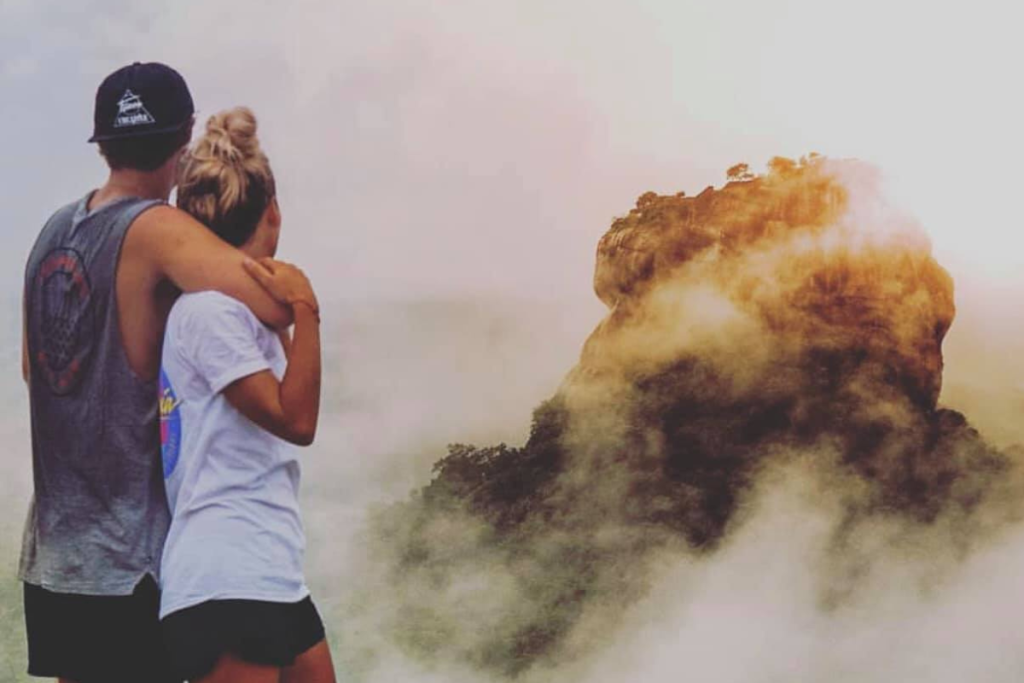 What are the most amazing places to visit in Sri Lanka for couple?
Sri Lanka offers stunning beaches, a rich cultural heritage, and breathtaking landscapes. In Sri Lanka, you can find everything you want while exploring and enjoying yourself with your loved one. Among the many destinations in Sri Lanka, several places are ideal for couples looking for a romantic getaway. From the sandy beaches of Hikkaduwa to the tea plantations of Nuwara Eliya, couples can explore plenty of options. Let's find out what these are.
Surf all the way at Midigama
Do you want to spend time as a lovely couple away from the crowd? Then Midigama is a charming little beach town perfect for you. Midigama is a small fishing village located in the south of Sri Lanka. The village is famous for its long sandy beaches and excellent surf breaks.
Are you a couple of explorers?
If you are a couple who enjoys adventure, you can take surfing lessons from any of the local surf schools. You can also take a boat trip to explore the nearby reefs, enjoy long walks along the beach, watch whales, or even try deep-sea fishing and surfing lessons together.
Relax together
If you prefer something more relaxed, Midigama is a great place to unwind on the beach, enjoy the peaceful and relaxing atmosphere, have a picnic, or watch the sunset over the Indian Ocean. Midigama is also famous for its seafood, so try out some delicious fish curry or grilled prawns.
Historic Trincomalee
Trincomalee is a port city located in the northeast of Sri Lanka. It is famous for its stunning beaches, ancient temples, and natural harbor. Do you want to spend time lounging on the beach, swimming, or snorkeling as a couple? Trincomalee's beaches are perfect for you then. Ancient temples of Koneswaram, historical sites such as Fort Frederick, and the hot springs at Kanniya are among many other options you can explore during your stay.
Don't worry. The sea is around you
Couples can relax on the beach, take a boat ride to see dolphins and whales or explore the coral reefs by snorkeling or diving. Trincomalee is also known for its spicy seafood dishes, so try out some crab curry or cuttlefish fry. If you love to, you can visit whale-watching tours and diving expeditions in Trincomalee.
Hiking to Sigiriya
Sigiriya is an ancient rock fortress in the central province of Sri Lanka. Did you know that Sigiriya is a UNESCO World Heritage Site? It's famous for its magnificent palace ruins, gardens, and frescoes from the 5th century AD.
Climb the rock fortress
You can ascend to the peak of the fortress with your partner for a breathtaking view of the surrounding landscape. The climb is steep but worth it for the stunning scenery. Sigiriya also offers guided tours of the palace ruins, which are well worth a visit. The gardens are a great place for couples to take a stroll and enjoy the natural beauty of Sri Lanka. Sigiriya also has a beautiful water garden and frescoes that depict beautiful women in ancient times.
Green town Nuwara Eliya
Nuwara Eliya is a charming hill station located in the central highlands of Sri Lanka. It is famous for its cool climate, lush green tea plantations, and stunning waterfalls. You and your partner can take a scenic train ride through the hills and enjoy the spectacular scenery. You can also visit a tea factory to learn about tea production and sample some of the world's best teas.
Why don't you try a romantic walk through the botanical gardens? Nuwara Eliya also has many cozy cafes and restaurants that serve delicious pastries and cakes, perfect for a romantic afternoon tea. Nuwara Eliya is also great for hiking, bird watching, and trekking.
Entertaining Hikkaduwa
Hikkaduwa is a popular beach destination. Everyone knows about Hikkaduwa for its turquoise waters, white sandy beaches, and beautiful coral reefs. You and your partner can go snorkeling or diving together to explore the vibrant underwater world. You can also take a boat trip to see the turtles that nest on the beach or relax and soak up the sun.
Entertainment all the way
The town is also famous for its nightlife and parties. Many beach bars and restaurants offering live music and entertainment make it an excellent place for couples wanting to let their hair down and have fun.
Main city Colombo
Colombo is the bustling capital of Sri Lanka. You can find a perfect blend of the modern and traditional culture here. There are several places for couples to visit in Colombo, from romantic walks on the beach to exploring the city's rich history and culture. Let's find out what are the places to visit in Colombo for couples.
Galle Face Green
Galle Face Green is a trending spot for couples to spend quality time together. It is a long stretch of greenery that runs alongside the beach. You can take romantic strolls with your partner while enjoying the beautiful sunset there. Several food vendors surround the area so you can have a quick meal and enjoy the stunning views without getting hungry.
Independence Square
The beautiful monument and the surrounding gardens are perfect for a romantic picnic or a leisurely walk for couples. The area is also popular among fitness enthusiasts so couples can jog or work together.
Colombo National Museum
Are you a couple interested in exploring the city's history? Then the Colombo National Museum is a must-visit. It houses a vast collection of artifacts from Sri Lanka's ancient history, including art, archaeology, and cultural anthropology exhibits. You can learn about the country's rich heritage and spend quality time together.
Viharamahadevi Park
Do you want to check out a park in the busy city? Viharamahadevi Park is a well-manicured park with plenty of greenery, walking paths, and benches. You can spend a relaxing afternoon with your partner, enjoying each other's company while surrounded by nature.
Enjoy your honeymoon in Sri Lanka
Sri Lanka has a plethora of romantic honeymoon destinations to offer. With its tropical climate, warm hospitality, and stunning landscapes, it is no wonder that Sri Lanka is quickly becoming a popular choice for honeymooners. Sri Lanka has it all, whether you are looking for adventure, culture, nature, or simply relaxation. Let's explore amazing honeymoon places in Sri Lanka to make your honeymoon unforgettable.
Surfing at Bentota
Bentota is known for its pristine beaches and luxury resorts. They make it an ideal place for a romantic getaway. You can indulge in snorkeling and surfing or relax on the beach and enjoy the breathtaking views. You and your partner can also take a boat ride on the Bentota River and visit the nearby turtle hatchery.
Bentota Lagoon is another exciting reason you and your partner must visit Bentota. Where it meets the sea, the River Bentota creates a lagoon. The Lagoon is truly unique and thrilling. The beach next to this Lagoon is equally beautiful and has palm fringes. This makes Bentota unquestionably one of the most romantic locations in Sri Lanka.
Loving Ella
In Sri Lanka's central highlands lies a picturesque town called Ella, surrounded by lush green hills, waterfalls, and tea plantations. Ella, a lovely mountain community, will allow you to participate in exciting activities. Therefore, Ella is the perfect place for couples who enjoy nature and hiking. The town has many hiking trails, including the famous Ella Rock hike, which offers panoramic views of the mountains.
Ella is perfect if you and your partner are not beach people and like mid-country. You and your partner can take a scenic train ride from Colombo to Ella and enjoy the spectacular views. This romantic resort is for nature. You can see acres of tea plantations, dense jungle, and other tourist destinations on a short stroll in and around Ella.
Historical Kandy
Sri Lanka's cultural center is Kandy. It is also another great place for honeymooners. It is home to many historical and religious sites, including the Temple of the Tooth, which houses a tooth relic of Lord Buddha. It is a UNESCO World Historic Site as well. Kandy is also surrounded by beautiful nature, including the stunning Knuckles Mountain Range, perfect for a scenic hike.
You can explore the city's many historical and cultural attractions, such as the Kandy Lake, the Royal Botanical Gardens, and the Udawatta Kele Sanctuary. You can see the surrounding hills and valleys beautifully from several of Kandy's charming hotels and resorts.
Relax at Mirissa
If you are trying to find a spot to unwind and unwind, Mirissa is the perfect destination. Situated on Sri Lanka's southern coast, this quiet fishing village offers tranquil beaches, crystal-clear waters, and plenty of whale and dolphin-watching opportunities.
You and your partner can enjoy swimming, sunbathing, and romantic walks on the beach. Other water sports are also accessible, such as snorkeling, scuba diving, and whale watching. Mirissa is also great for enjoying delicious seafood and experiencing the local culture.
Galle is unforgettable
Galle is a historic city located on the southwest coast of Sri Lanka. It is famous worldwide for its well-preserved Dutch colonial architecture and the famous Galle Fort. Galle Fort is another UNESCO World Heritage Site in Sri Lanka.
You can explore the city's many historical and cultural attractions with your partner, such as the National Museum, the Dutch Reformed Church, and the Galle Lighthouse. There are also many romantic restaurants and cafes in Galle where you can enjoy stunning ocean and city views.
Conclusion
There are a lot of places to visit in Sri Lanka for couple. You can get a unique and unforgettable experience with its stunning beaches, rich cultural heritage, and breathtaking landscapes. Whether relaxing on the beach, exploring ancient sites, or trying out some delicious seafood, Sri Lanka has something for every couple.
Sri Lanka also has numerous beautiful honeymoon destinations for newlyweds. From stunning beaches to scenic mountains, Sri Lanka has everything to make your honeymoon unforgettable. So, pack your bags and prepare to create special memories together in this tropical paradise.